By Dovile Miseviciute
Within the fast paced world we live in today, staying on top of things is one of the most important and most difficult goals we give ourselves. Whether it is in our personal or our professional lives, we often find it challenging to keep up with the latest information, understand the whole picture and to make the right decisions fast. The good news is – we have tools like Eylean Board, to help us stay on track and see our projects to completion with ease.
Like many other great products, the story of Eylean Board starts with a small group of people struggling to find a tool that would fit their needs and like many others before them, deciding to create one of their own. Five years later, the small group of people is known as the team of Eylean, the tool is called Eylean Board and it is used by teams all over the globe.
You may wonder what is it that makes Eylean Board so great? Amongst multiple layers of projects, tasks and subtasks, time tracking, reports and integrations, there are three key benefits that put this software on top.
#1 Visual boards to represent every important detail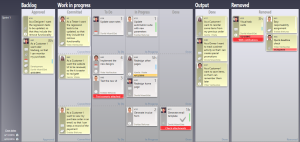 One of the most important things in project management is being able to see both the big picture and the important small details. However, analyzing the details takes time and thus we are left to rely on our team to give us the information. Needless to say, many things get lost in translation this way and we end up struggling to make the right decisions.
With Eylean Board however, the important small details are right there in the big picture. You can see who is working on which tasks, how much time they have taken, what problems they are facing and monitor the due dates represented in color-coded notifications on the board. And if you want to know more – simply expand the task details to see descriptions, commentary, attachments and more.
#2 A tool that is easy to use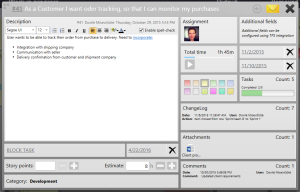 Being able to understand and use the software immediately is another big problem companies are facing today. Introducing a new tool to your team usually means hours of training, followed by weeks of confusion and the wait for actual results that may never come.
The beauty of Eylean Board is that the whole user interface is based on intuition. Tasks can be moved, assigned and tracked all with a simple drag and drop. The software is self-explanatory and the ability to modify the board gives you an opportunity to duplicate your previous solution in order to have a smooth transition period for all. Contrary to some other tools, Eylean Board can be used by developers, sales, marketing, finance and any other department in a company at the same time.
#3 Latest project management methods at your fingertips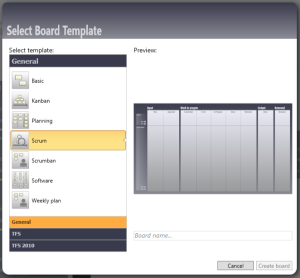 Lastly, you need an innovative tool to keep up with project management practices that are moving forward. Eylean Boards is just that – you will find templates for Scrum, Kanban and Scrumban boards or will be able to create your own templates modifying and improving the Agile methods to be just right for you. Furthermore, the Eylean team is fully emerged in following the latest Agile trends and can help guide your Agile journey.
Eylean Board is an intuitive and easy to use project management software that allows your team to realize their potential. Intrigued? Start the two-week free trial with no strings attached.
About the author: Dovile is the marketing manager at Eylean. She has been actively immersed in the Agile project management field for two years by working within the methodology and writing a blog about the newest trends and shifts in the industry.