By Josh Benhamou
Given that three quarters of IT Executives believe that their projects are "doomed from the start", it's fair to say that Project Managers have to deal with a range of problems on a daily basis. But does it have to be this way? Increasingly, smart use of technology is helping embattled Project Managers everywhere run their projects more efficiently by taking the heavy lifting out of everyday tasks. Whether you need to communicate smarter, tighten up your documentation or simply save time – there's an app for that. But in the bewildering array of technology solutions available today, it's not always easy to see which is going to provide the greatest benefit for you and your business.
For a simple example, allow us to introduce Alex and John, two Project Managers struggling with common issues that were resolved with a bit of technological know-how.
#1 Requirements Management
Alex worked as an IT Project Manager in a financial services company for 3 years and was in the scoping and planning stages of a 2-year long project. Like many project managers out there, Alex had found that, on previous projects, requirements management was poorly achieved through lengthy, unmanageable spreadsheets. Alex did not want this to be repeated on such a large scale project. At a project team meeting, she suggested using a requirements management application that would allow the central management of requirements. They decided to try it out and, within three weeks, all requirements were being managed through the online application.
Fast-forwarding a few months takes us to the implementation stage of the project and the results were extremely positive.
The project was a few weeks ahead of schedule due to reduced workload which saved almost $120,000 of Alex's budget.
The project team had collaborated on each requirement meaning that stakeholders were not surprised by any requirement.
The executive stakeholders were delighted and encouraged with the project thus far giving Alex more flexibility on the project.
#2 Documentation
John is an experienced project manager in a top-tier consultancy. John was in the middle of the Requirements Gathering and Analysis stage of a project for a high-priority client and was getting exasperated with the number of out-dated Requirements documents being sent to key stakeholders. John decided to take action by subscribing to a requirements management and document generation application. He immediately imported all the project requirements to the application and created a customised template to exactly match the clients document branding and structure. The project team began to manage the requirements through the application which allowed them to generate a new up-to-date Requirements Document whenever necessary.
In just 3 weeks, the results were overwhelmingly powerful.
The application reduced the project team's workload by 20% saving a significant amount of money each week.
Requirements Documents were always up to date and took seconds to generate even with all the system architecture images and customised fields.
The application managed the project documentation which allowed the team to find any required documentation instantly.
Requirements were manged centrally through the application meaning that John benefited from the same results as Alex's project.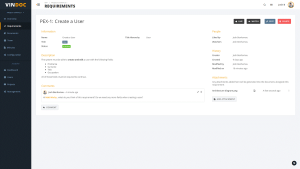 Both Alex and John's projects completed on schedule and budget beating 93% of the other projects out there. They both achieved this through VINDOC, a requirements management and document generation application.
You can read more about John and Alex's experiences and register for a 14-day free trial at www.vindocapp.com.