It all started with the belief that a contribution can be made to the project management profession! From the context of "learning, earning and returning", it was time to return. It was fuelled by my strong desire to help people.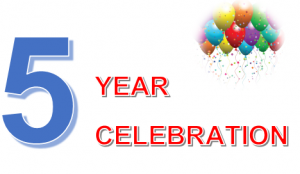 That was the birth of Virtual Project Consulting 5 years ago. The company would only consist online with its presence on a website or blog with the same name: www.virtualprojectconsulting.com
It was targeted initially at small business owners who didn't have project management competencies or capacity within their own businesses and who would benefit from advice and guidance about project management, leadership, best practice tools and processes, as well as other related topics. This community was served through a product called, 'The Project Management Toolkit', guiding users about the application of project management on small projects. Coaching was also provided to aspiring project managers.
It was quite a journey. While figuring out ways to market Virtual Project Consulting online, I had to learn about Internet Marketing practices, as well as social media marketing and apply that to my online business. This contributed to the creation of another website at linkymerwe.com, which was complementary and all about integrated online communications.
Over the course of 5 years the target audience has changed to aspiring and existing project managers who are now also served by comprehensive lists of recommended resources for project management practitioners who are looking for products, software, training, websites and books. My social media community has grown on Twitter, LinkedIn and Google+.
Every year brought about some 'recalculation' in terms of what to focus on both professionally and personally. To me it meant reassessing my goals, direction and my view of what success means. Towards the end of 2013, this process of recalculating lead me to refresh the website, as well as to make a conscious decision to focus on one community only, instead of different audiences through additional websites. It's about growth, perspective and new possibilities.
With a constantly moving landscape in which we operate today, being flexible, adaptable and responsible are key to success in a changing world.  Success requires that one be nimble and ready when opportunity knocks.  But opportunity favours those who are prepared rather than surprised.
Some highlights that caused me to celebrate over the years were:
Publication of articles in the Project Manager Magazine and associated website; contribution to articles in PMI's PM Network magazine.
Being interviewed various times by international contacts for contribution to Webinars, training, surveys, research and for blog articles
Awards of being in Top Ten list of favourite project management bloggers more than once
Success Stories Shared initiative whereby experienced project managers share their stories about challenges and lessons learnt on projects. One of these stories was used as a case study in a printed text book for Operational Management. It also lead to talks at national conferences as well a local chapter meetings.
Participation on global initiatives like the PMFlashBlog when more than 80 project management bloggers contributed stories about "what does project management mean to me" by publishing them on the same day at the same time. Many stories are collected in an ebook that's available for down-load here.
Excellent guest authors who have contributed blog articles over the years
I'm celebrating the opportunities of meeting wonderful new people every year and being able to participate in so many creative initiatives that contribute to the growth of our profession. It is still an honour to be around and to be able to serve people and to make a difference in many small ways. I am truly blessed and enriched by this experience and wish to continue sharing, enabling and growing.
Thanks for reading and sharing my 5 year celebration!!!
Feel free to leave a comment and let me know what you would like to see more of as resources and information for PM's.
Please subscribe to my blog to become part of our community and let me know how you want to collaborate.
If you would like to contribute to Virtual Project Consulting as a guest author, please send me a mail: linky@virtualprojectconsulting.com