By Biraj Borah
Project planning and monitoring may be quite simple on average projects, but for larger projects it is a complex set of tasks and activities. During Planning, once the scope is defined, firstly the high-level activities are listed as Level 1 (L1). A rough time estimate is given and only the major milestones are defined. With respect to the Level 1 milestones, further levels are then defined. And the number of levels depends on the size and complexity of the project.
In Planning, this process of defining all task levels to be done on a project, helps to create the work breakdown structure, also called WBS. And the final level of the WBS is the activity. Completion of all the defined activities under the WBS, will lead to completion of all the in scope deliverables.
Traditional Method to Update Progress
According to the traditional method, we update by dragging the Gantt chart or edit in % completion field. Using this approach, there is no relation to the resource assigned to the task and is mostly manually driven by the user. This seems simple enough. But on a complex project, there is no validation of how that percentage is arrived? Large projects require project task against certain validation. Without any tools, the project manager has to rely on other details and supporting documents which makes the project much more complex to monitor.

Modern Approach – Driven by Resources (Human, Capital & Material)
TIEMCHART project management software provides the modern approach to monitoring task progress based on resource update assigned to that task. Each task or WBS may be driven by various resources – human, machinery and material resources.
An individual WBS may involve completion of multiple sets of resources. If you are talking about a consulting business, a task may involve assigning the consultant a set number of hours or it may involve delivering a set number of design documents or other reports. Now such tasks can be monitored based on either the number of hours completed or number of design documents submitted against the plan.
Similarly for a procurement task, it may involve delivering a set quantity of cement bags, steel pipes etc. Likewise such deliverables can be assigned against the task or WBS. Progress of the task can be automated based on actual number of cement bags or steel pipes delivered.
Set Resource Planning & Requirement
Once the resources are identified against the task, you can plan the quantity / hours deliverables against the task. Based on such assignments, project progress can be monitored.
Single resource – if a task involves using single resource. Deliverables such as number of hours or quantity can be specified against the task
Multiple resource – Tasks that involves multiple resources can have a bearing based on number of items delivered against such multiple resources

Monitor Task Progress Based On Resource Assignment
Depending on task planning and resource assignment, task progress can be monitored based on actual delivery of such resources. Be it human or machinery engagement in number of hours, material resources in quantity, task progress can be measured and monitored in real time based on such deliveries.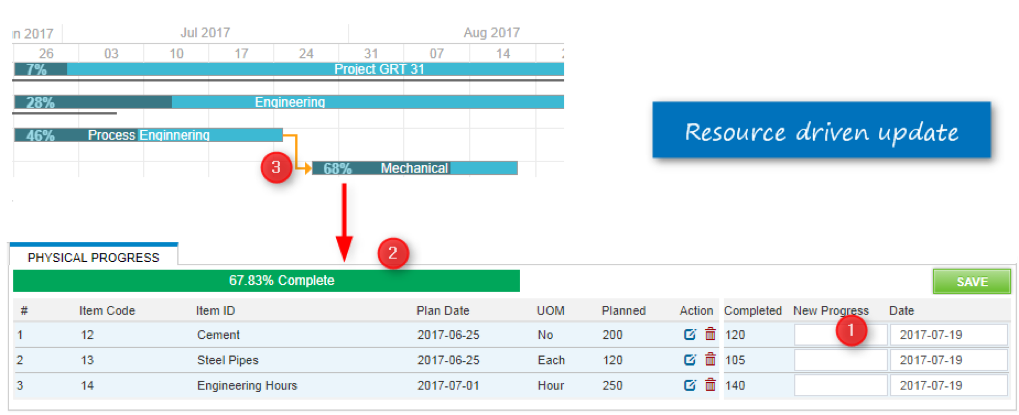 Benefits of Resource Driven Updates
TIEMCHART is the first Project Management Software to bring the solution of automated project progress based on resources. This helps businesses to cut down project delays and finishing more projects on time. Being a cloud-based solution, it also simplifies implementation and reduce expensive installation costs.
Visit Tiemchart and request a free demo.