By Linky van der Merwe
By definition an Accidental Project Manager is "A business professional where project management is a secondary responsibility, but who is asked to do important corporate projects nonetheless".
It can also be any person who now manages projects for the first time with little or no prior experience or training.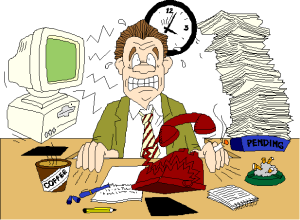 You may feel a bit like the guy in this picture!
According to research most project managers start out with a qualification which determines their early years' experience. Often these individuals are technical specialists who were put in charge of projects in their respective fields or industries. If they show potential as managers and work well with people, they tend to gravitate toward project management. With introspection, they would discover that project management actually suits their natural abilities and complements their core talents and skills.
The move to full-time project management becomes easier once they undergo some training that would equip them with adequate technical and interpersonal skills. Although many of these skills are usually honed with experience while managing projects.
Often there would be a high expectation to succeed especially if they come from a background of being a subject matter expert or a manager, managing teams of people.
An accidental project manager would be eager and motivated to learn. Such a manager requires some sort of accelerated learning in order to become more confident at doing project management. A fortunate project manager, would be sent to do a project management course ranging from 5 days (typical project management methodology course) to 6 months with a diploma at the end.
Career Path
In many organisations, there is no clarity on the typical career path options that project managers have. They are left to their own devices with perhaps only their Line Managers giving them guidance and support.
I believe that many good project managers are often lost to the profession if they don't have a clear career path within an organisation with a mature project management program. There needs to be opportunities created for training and mentoring, for networking with other project managers who are at the same organisation or at least with others who work at similar organisations or in similar industries.
Some-times the right opportunities are not available for project managers to move from being junior to more senior project managers and even program or portfolio managers. A project manager would then have to move to another organisation which presents a growth opportunity, leaving their previous organisation to lose good talent and intellectual property.
Mistakes new project managers make
Understanding how the scenario plays itself out over and over again for new project managers coming on-board into this 'accidental profession', it will come as no surprise that the inexperienced project managers will keep making the same mistakes that are so typical, like:
Poor governance (importance of good governance is underestimated, or not understood)
No Business Case
Unclear scope (requirements analysis are not done appropriately, or scope keeps changing)
Not doing proper planning, planning in isolation (common pitfall for new PM's)
No break-down structure showing phases, milestones with deliverables (no experience with project methodology)
Underestimate the effort, chasing imposed deadlines (no confidence in own/team's ability to plan well and giving feedback on realistic timelines)
Not proper buy-in from stakeholders (happens often with inexperienced PM with little authority)
Accelerated Learning
What accidental project managers often need, is a fast-track learning program to give them the necessary confidence to see projects through to a successful delivery. They need to grow critical project management competencies and learn how to overcome the biggest challenges on projects.
The learning curve can be steep while trying to become effective as a project manager through trial and error. They can make many mistakes and waste time and money.
PM Toolbox
If an accidental project manager can build the following PM Toolbox when starting out, it will make a big difference in their experience. Once a project is delivered successfully, the sense of accomplishment is a great reward. Good project managers will choose to stay in the profession and pursue project management as a long-term career.
The PM Toolbox would include:
The essential technical project management skills you need for your new role
The soft skills you'll use daily on projects and how to develop them
Understanding Governance in order to be an effective project manager
The main pitfalls for new project managers and how to avoid them
How to examine your goals and aspirations to define a career path
Which strategies to implement that will yield the biggest results
What it means to be a professional and how you can become one too
For more information on how to build your PM Toolbox as part of a fast-track growth program, visit Project Manager Growth.