Project Management Success in 2009?
Being in the middle of summer, I took my kids to a lovely beach, called Clifton(see picture on the right), in Cape Town. While spending the day overlooking the beautiful ocean, I had time to reflect on the past year and specifically what project success I have accomplished in 2009.
There is no denying that it was a most difficult year.  Yet, we all aim to be successful in what we do. Looking back at 2009, you can evaluate if you were successful, personally, professionally and with business projects delivered. There are a few simple questions you can answer:
What were your achievements on a personal level?

What did you accomplish in your business?

Did you have specific triumphs or project successes in 2009?

What highlights did you experience and why were they highlights?

What is it that you are doing well?

What can you improve and do differently in 2010?

Is your business profitable?

What did you enjoy most/least in your business?
Write Your Own Report Card for 2009
By doing this you can write your own Report Card to assess your accomplishments. It will help you stay focused on the positive things that you have achieved in 2009 and that you can be grateful for.
To give you a glimpse of my Report Card for Virtual Project Consulting, I wrote down my reflections on the past year.
I established my own company, Virtual Project Consulting – providing project management consulting and social media solution services– for doing business online and locally.

I created and customized my own website that is also a blog in March 2009.

I did 40 blog postings on several topics and I am positioned to publish frequently and more consistently in 2010.

I created a

Project Management Toolkit, Solid-as-a-Rock

to empower business owners and service professionals with little or no project management experience to manage their own business projects and services to customers.

I created a

Social Media Starter Project Kit

to enable business owners and service professionals to become active in using social media tools to grow their business.

I became

social media active

by implementing a social media strategy with many free tactics for traffic generation, lead generation, business networking and growing my brand online. I also use

Virtualpm

as my social networking persona as it compliments the virtual project management services that I offer.

I learned constantly about Internet Marketing, running your own business and how to focus despite all the distractions you are bombarded with while being online.

I connected with numerous other project management experts, with social media teachers and many business and marketing gurus from whom I keep learning.

I am a guest writer on two websites/blogs, one about project management and one about Web 2 and social networking.

I started to make money, but most importantly, I created and established a business brand that I am passionate about, where I truly want to make a difference and hope to contribute authentically and add value to my client's lives to help them grow their business in 2010.
Looking back on 2009, I realized how much I have to be grateful for. I did more research in the past year on internet marketing, social media and other topics that interest me than in the 5 years before that. Being an optimistic, but impatient person, I learned the virtue of patience and of having faith to keep doing what you believe in with diligence and skill.  It really takes perseverance to become successful, but it takes a positive attitude to be happy in any circumstances.
Strategy for 2010
Do you have your business strategy for 2010 in place?
Do you have a Social Media strategy that gives you a plan, a strategic approach for social networking and many tactics to use to grow your business online, establish your brand and make more money?
Look at the Social Media Starter Project Kit!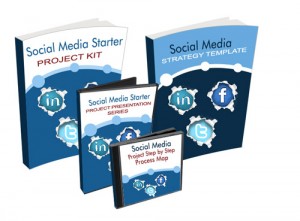 I'm giving away the Social Media Strategy template for a limited time until 15 January 2010. Use the opportunity to create a social media strategy for your business as part of your overall marketing plan for 2010.
Thanks for the opportunity to share. Please feel free to share one or two of your own accomplishments and even 2010 resolutions…..