By Linky van der Merwe
The work breakdown structure (WBS) is a very important tool at the start of your planning phase.
Once you have defined your project scope, it is necessary to create a work breakdown structure. By definition it's a tool used to define and group a project's work elements in a way that helps organize and define the total work scope of the project.
There are many benefits to having a WBS as it provides the project manager and team with a task framework that helps with task scheduling and deriving cost estimates. From the WBS you can also identify the Deliverables and Milestones of your project.
It helps to finalise the project scope and plan the project properly. In addition it will help to outline the project budget and to link deliverables to resources.
Types of WBS
There are different types of WBS depending on the type of project. Have a look at some options:
Use project life cycle phases as the 2nd level and deliverables at the 3rd level
Organised based on major deliverables on 2nd level, tasks to be completed on 3rd level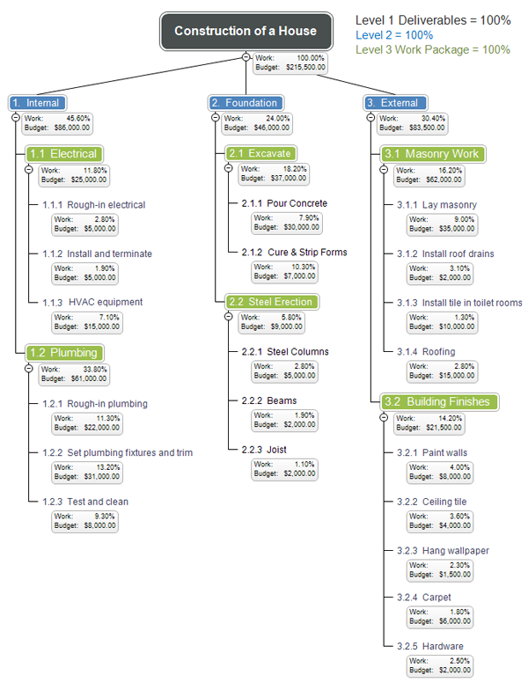 Benefits of a WBS
A WBS will give the project team confidence in that they are clear on the in-scope activities. A well-defined WBS enables resources to be allocated to specific tasks, helps in generating a meaningful schedule, and makes calculating a reliable budget easier.
The WBS will show well defined tasks that can be assigned to a specific individual, who is then responsible for its completion. It will keep the team focused on the project objectives and make them committed to the goals and completion of the project.
Time required
The development of a WBS can take quite some time. Depending on the complexity of your project, the number of people who must provide input and how large the scope is, it can take hours, if not days and multiple workshops to complete. Once drafted, the WBS will require refinement and it may change as the project changes.
However the advantages of having a WBS far outweigh the challenges of creating it. A good WBS makes planning and executing a project easier and lays the groundwork for the schedule, tracking, budgeting, and accountability. It's considered project management best practice to have a WBS and as such it's an essential element of overall planning.
Please subscribe to Virtual Project Consulting not to miss future articles!