When considering social media for use as a communication tool on projects, there are many things to think about:
the purpose of using social media to manage projects
the benefits of adopting social media on projects
best practices when integrating social media with projects
privacy and security concerns
which social media channels to select
challenges in the workplace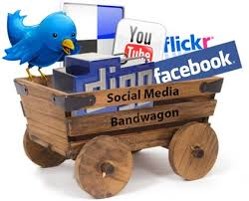 This can be quite over-whelming. The purpose of this article, is to answer some questions about social media for project managers and to direct you to good resources for more information, education and implementation.
A fellow project management blogger, Tony Adams, summarised it very well when he said:
"social media is about investing the time and energy into developing long-lasting, personal relationships with your network."
This applies whether we want to position ourselves as Thought Leaders or to connect with our project teams and stakeholders.
Let's look at the questions that people need answers to before they will consider social media for projects.
How do you manage the information overload?
Too many communication tools can result in more interruptions and therefore more distractions, so you need to think about how to manage the various streams of information that social media tools open up to you in order to avoid information overload. It is a matter of trusting your team members and not having to monitor all conversations that are going on.
When it comes to instant messaging, you can store the output from chats. Your IM tool may have settings that sends the chat to you as an email after the session ends, so check if this is turned on and use it if it is available. These can then become project documents and can be stored and archived in the same way as meeting minutes.
Then there's the matter of email (present on all projects) and then adding more social media channels on top of that. Consider using social media channels as pull communication where teams need to visit the project site in order to find and share project information that would benefit all. And publish the messages that are discussed on the social site, because people often need to hear/see the same thing several times before they believe it; so using several channels to repeat the same (consistent) message is appropriate. Don't create confusion by saying different things on different channels.
What about the security implication concerns that many companies have?
Most people have smartphones with internet access and they can access social media whether the company allows it or not. It is better for a company to monitor and control access through policies and education by training them about the purpose of using selected social media channels.
Manage security by using tools that you can host in-house behind your firewall so they are not available to external audiences e.g. Yammer, Wikis. Also use tools that enable you to export your data when you need to or when the project is over.
However, if you cannot address security concerns adequately, don't use social media tools if it doesn't make sense or puts you in breach of agreements or policies.
How will you activate project managers to integrate social media onto their projects?
First project managers need to educate themselves. Find Project Management Social, a SlideDoc, that will help you with this.
Next, based on a better understanding of what platforms are available and how to use them for projects, you can determine and select the most appropriate tools to bring social software onto your projects. Visit Social Media for Project Managers for more information.
Then make social media part of your communications plan and use it consistently with your team members to achieve the expected results.
For training, guides, a checklist, strategy and action plan templates, visit PM Social.