By Kiruben Reddy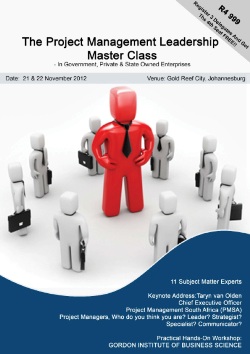 This promotional article is aimed at seasoned project and programme managers in South Africa who aspire to be more successful and outstanding in how they deliver projects. The information to be presented will also apply to CEO's, Managing/ Project/Chief Directors, Engineering Directors, Project Leaders, Operations Executives, COO's, HOD's, I.T. Directors, Municipal Managers, Financial Project Managers, Team Leaders, Project Planning Managers, Business Analysts, Construction Managers.
Organisations more than ever are under pressure to operate and deliver more effectively and efficiently, place greater emphasis on stream-lining internal operations, increase focus on customer needs, on superior service delivery in relation to competitors and within shorter timeframes. This is necessary to retain their existing customer base as well as to increase their market share. With the current rate that Companies are moving at globally, coupled with the pace of change, now more than ever an organisation's ability to execute (on time, on budget, to stakeholder expectations) is not only good for business but is a necessity.
This shift in mind-set requires organisations to have the ability to manage and effectively utilize their resources to the best of their ability to derive direct tangible value through the projects they initiate.
The Project Management Leadership Master Class will provide you with the essential insights in today's industry and project efficiencies and touch on what's required today to initiate, manage, monitor and drive delivery through the life cycle of a project successfully. Delivery is not only measured by the fact that it was brought to existence, but the manner in which it was executed and whether it is in line with the original expectations and business benefits of what it was intending to deliver.
Key strategies to be discussed, include:
Implementation of a project lifecycle methodology
Risk Management
How to deal with shortage of project management skills in South Africa
Achieving project results through our people
For more information, download the Project Management Leadership Master Class brochure and register for this today.
About the Author: Kiruben Reddy is the General Manager of Solutions Bridge, a 100% Black Women Empowered company and is Level 3 B-BBBEE certified. Your organization can recognize 110% of your spend for the Leadership Master Class hosted by them.