By Maricel Rivera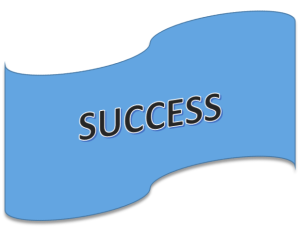 Success isn't absolute. At the fundamental level, project success is difficult to define. According to Computer World, the usual group of project stakeholders – project manager, team members, sponsor, end users and top management – may give the project very different success ratings at any given point in time.
The triangle of time, scope and budget is just the starting point for project managers, as hurdling through the triple constraint is expected for the project's output to be a success.
Then, there's the fact that project success goes beyond just the output. As stated by the PMI, "Based on today's project environments, project managers need to broaden their perspective to include other criteria to satisfy stakeholders and deliver business results."
How to measure project success
Here are five project success metrics to consider.
#1 Client satisfaction
The project's end result may squarely fit within the designated time, budget and scope requirements, but is the client happy? Clients, sometimes, cannot eloquently explain what they want, and it is up to the project manager to figure things out. Does the project pave the way to more future partnerships? If not, is the client willing to put his reputation on the line and recommend your company to his peers and colleagues?
#2 Quality of delivery
A project may elicit results the client absolutely loves, but if the people involved in its execution had to go through endless clarification stages and endure unnecessary headaches while working their way to completion, the project may not necessarily be a success. Knowing how team members feel about the overall project can prompt project managers to devise ways to better communicate and define future delivery objectives.
#3 User adoption
A software application as an end product can only be successful if the intended end users actually use it, and use it often. Aside from usage frequency, other questions to ask can include:
Is the software user-friendly and easy to navigate?
How is the learning curve?
Does it address prior user challenges?
Overall, is the product an enabler or a nuisance?
#4 Value realization
Apart from satisfying the needs of its clients, a company must also realize its business goals, such as ROI (rate of return), NPV (net present value), among others, for every project it takes on. Shorter time-to-market and faster project delivery benefits not just the client but the business as well, in that this ultimately leads to cost efficiency and more time to take on more projects.
#5 Lessons learned
For every project, successful or otherwise, there are lessons to be learned. While failure is oftentimes seen as a better teacher than success, two important factors to look into when evaluating the success of a project are:
Is the project instrumental to increasing the knowledge of its stakeholders?
Does it better prepare the company for future endeavors?
Conclusion
Keep in mind, to ensure success above and beyond the output, project and business objectives must be aligned. The above are just five measures to look into when evaluating the success of your projects. What other measures would you like to add? Please add your thoughts in the comments section.
About the Author: Maricel Rivera writes content for Comindware, the company behind Comindware Project, a state-of-the-art project management solution providing unique automated scheduling and unmatched collaboration capabilities for professional project execution.