Is Project Management the career for you?
To learn more about project management as a professional career, find many resources on the PMI website, under Career Central. It explains the employment landscape, keys to success, salary and earnings information, interview skills and many more interesting articles.
Are you an existing Project Management Professional (PMP)?
In order to maintain the PMP credential, you are required to earn 60 Professional Development Units (PDUs) every 3 years.  These must be reported to PMI by faxing or online before the end of each 3-year cycle.  PMI refers to the record of what you have claimed as the "transcript". The Continuing Certification Requirements (CCR) Program was designed to help you grow and develop with the profession. If you lose your PMP certification, you would be required to sit the exam again, and incur the full costs of such an exercise. The exam will be based on the edition of PMBOK current at the time (2013 saw the release of the 5th Edition). As the global business environment and project management profession evolves, the program must adapt to provide development of new employer-desired skills. Employers need project practitioners with leadership and business intelligence skills to support long-range strategic objectives that contribute to the bottom line.  On 1 December 2015 the CCR program was updated to place more emphasis on the employer-demanded skills outlined in the PMI Talent Triangle so that you are equipped to remain relevant in a continually changing business environment.
What does this mean for you?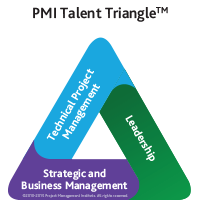 Your career development is a journey not a destination. You need to set yourself apart and remain relevant in an ever-changing business environment. That's why employer-relevant skills from the PMI Talent Triangle — leadership and strategic and business management — were incorporated into the CCR program. This ensures you can develop your career in a more consistent, actionable and meaningful way. And, most importantly, position yourself as the answer to what companies demand. The ideal skill set — the PMI Talent Triangle — is a combination of technical, leadership, and strategic and business management expertise.
Definition of each skill
Technical Project Management: Knowledge, skills and behaviors related to specific domains of Project, Program and Portfolio Management. Leadership: Knowledge, skills and behaviors specific to leadership-oriented, cross-cutting skills that help an organization achieve its business goals. Business and Strategic: Knowledge of and expertise in the industry or organization that enhances performance and better delivers business outcomes.
How to Earn PDUs in the New CCR Program
The overall framework of the CCR program remains the same. You will continue to earn PDUs in the categories of Education and Giving Back. How PDUs in those categories are classified will be different.
Education
60% of PDUs are now required in this category to place more emphasis on developing employer-demanded skills.
Education PDUs are aligned with the PMI Talent Triangle.
A minimum number of PDUs must be earned in Technical Project Management, Leadership, and Strategic and Business Management categories.
Giving Back
The maximum number of total PDUs to be earned in this category has decreased.
Activities remain the same: Volunteering, Creating Knowledge and Working as a Professional.
The total number of PDUs to be earned in Working as a Professional has decreased.
See the details
It is important to note that any project management related activities are eligible for the obtaining of PDUs. For example, if you attend a PMSA Branch or Special Interest Group (SIG) meeting, which includes a learning activity, you may earn 1 PDU for each contact hour of learning (thus if the meeting is spread over 2.5 hours and the speaker speaks, including questions, panel discussion and so on for 1 hour, you may claim 1 PDU). For example, if you attend the biannual PMSA Conference, you will be asked for details of the event you attend. You have to specify which PMBoK areas were covered, who presented it and so on. Then on the next screen, you will be asked how many PDUs you wish to claim. If in doubt, ask at the information desk, but if you did not attend the whole conference, the rule is that you can claim 1 PDU for every "contact hour", i.e. for every hour that you actually attended a topical presentation (excluding tea / lunch breaks, the dinner and so on.) In other words, you can earn 1 PDU for every hour that you actually spent learning about project management. If you attend a course presented by one of PMSA's Registered Education and Training Providers (RETP), you can claim according to the same rules – if you attend a 3-day course and each day involves 7 hours of classroom work, then you could claim 21 PDUs. If you actually teach or present the course, or the talk, then you claim under Leadership. Be sure to have documentary proof! If you do not, PMI may reject any PDUs claimed should they choose you as part of their random audit.
More information
To learn more about the program, what are PDUs, how to earn and claim them, as well as step-by-step instructions on how to renew your certification, watch the CCR Video. Click here for Frequently Asked Questions about the CCR Program updates. If you have any additional queries, it is best to go directly to PMI: CustomerCare.EMEA@associationhq.com Once you have "reported professional development units (PDUs)", PMI first reviews what you have entered for correctness and acceptability. Only after that do they award the points.