**Note: Some of the links on this page are affiliate links.
Video based training program for studying for your Project Management Professional (PMP) certification.

The PM Exam Simulator™ offers you the opportunity to take 9 computer-based sample PMP Exams including 1800 questions before heading out for the real thing.
A PMI Agile Certified Practitioner (PMI-ACP)® Exam Prep Video Workshop that reduces your exam preparation time significantly. Download it to your tablet and study for your exam anywhere.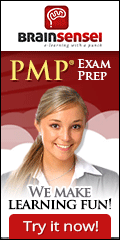 Brain Sensei is an eLearning company that offers online courses to help people prepare for the Project Management Professional exam. Our mission is to provide simple and innovative courses to help people achieve their learning goals anytime anywhere. Use an animated story to reinforce key project management concepts and to make it easier for you to absorb information. Be drawn into Feudal Japan and find out how a female Samurai overcomes adversity. Online training that covers any learning style, with easy to read content, quizzes and a ton of practice questions. Brain Sensei is a Registered Education Provider (REP) with the Project Management Institute.
Simplilearn is an Affiliated Training Provider with the PMI (Project Management Institute, USA). They have trained 8000+ professionals across globe and across industries on project management. PMI's Project Management Professional (PMP) credential is the most important industry-recognized certification for project managers & IT related professionals. Globally recognized and demanded, the PMP demonstrates that you have the experience and competency to successfully lead and direct projects.
Online training is offered for aspirants who are comfortable with self-study and do not have enough time to attend classroom sessions. Online courses include audio-video chapters covering the exam syllabus, quizzes and answers at the end of each chapter. PDUs  are also offered to participants at the end of the training. Alternatively consider live virtual classroom training that allows you to interact with an instructor online. Online PMP Certification Training Online Agile Certification Training PRINCE2 Certification Training Scrum Master Certification Training
GreyCampus is leading training provider of digital learning solutions for professional certifications, higher education and test preparation. Solutions are offered globally, have helped train more than 10,000 professionals worldwide and are designed with a focus on quality, efficacy, scale and affordability. It is a registered education provider (REP) with institutes like PMI, Axelos, PeopleCert, PRINCE2 and more. The learning is engaging, interactive and accessible anytime-anywhere. All training is complimented by a strong eLearning platform with engaging learning features including interactive practice, custom study planning, assessments with learning interventions, video-based learning, flash cards and personalized feedback. GreyCampus also offers short courses to help project professionals earn Category A Professional Development Units (PDU). These PDUs help them keep their PMI certification, to develop themselves and to be up to date in the job market.  
The Boston University programs are recognized for academic excellence by the world's leading accrediting bodies: AAU, AACSB, EPAS, PMI, and NEASC and cover a wide variety of specialties. Boston University is ranked #7 in the US and #11 in the World according to Global University Employability Ranking 2016. The graduate programs in business and management meet your needs with liberating flexibility, an engaged community, and rigorous academics that offer practical, interactive learning. It's offered in convenient formats— evenings on campus, online, or blended.
A global leader in Project, Program and Portfolio Management, Microsoft® Project and Project Server, Business Analysis, Lean Six Sigma, PRINCE2®, ITIL and Leadership and Interpersonal Skills, IIL® offers  innovative learning solutions, training and consulting for corporations and individuals. For existing PMP's, earn PDUs with these convenient, on-demand packages of 20 one-hour webinars, covering topics such as: Global Project Management, Agile Planning and Estimating, Business Analysis, Lean Six Sigma, Microsoft® Project, Stakeholder Analysis and Management, Emotional Intelligence, Conflict Management and PRINCE2®. Click here to learn more about these PDU PowerPacks™. For on-demand videos that provide you with immediate access to dynamic, engaging presentations on diverse topics, including claiming Category C PDUs for the PMP® and other eligible certifications, click here for the Video Store.
KnowledgeHut offers over 120+ professional certification courses across industries to helps professionals get an competitive edge and boost productivity. KnowledgeHut is an industry-leading knowledge training company for individuals and corporate offices, operating across 70 countries and 6 continents. They offer an extensive selection of vendor-authorized training and certifications for PMI, Microsoft, APMG, CompTIA, and Scrum Alliance and cater to US , Canada , Germany, Sweden, Netherlands, UK, Ireland, APAC and SE Asia. Use coupon code ELEARN15 for 15% discount on what they offer: High Quality PMP Certification Elearning content –  35 PDUS. Now available with bonuses like a PMP exam blueprint and a PMP exam question bank on all knowledge areas. High Quality Agile and Scrum Elearning content – Access for 1 year. High Quality Microsoft Project 2013 Elearning content – 45 PDUs. High Quality Change Management Elearning content 
PMIS specialise in courses for commercial organisations, or any organisation that has a clear goals to improve their own project delivery capability. They only deliver project management (PM) related training, and have a first class track record supported by excellent customer references. PMIS has worked across Europe, USA, South America, Asia and the Middle East.
A comprehensive selection of e-learning courses from RMC, one of the leading Project Management training companies in the world. RMC is now delivering its most popular advanced project management training classes live and online! Using one of the top online learning facilitation tools, students will experience true, classroom-style learning in front of their own computer. In addition to world-class instruction from experienced instructors, our live online classes will feature live chat, white boards, breakout rooms, file sharing, testing/quizzing, and dozens of other learning-based features.
Project Management Training Institute (PMTI) is a PMI Global R.E.P. recognized world-wide as a leader in PMP training in bootcamp format. PMTI also offers a variety of resources for those interested in PMP Certification Training.
Online Certification Training Provider who offers online certification courses for IT & Business professionals in more than 170 countries. Certification courses delivered by the Master of Project Academy includes but not limited to:
What makes Master of Project Academy unique and competitive is its comprehensive courses with affordable prices where the list price for the certification courses are around 30% cheaper compared to their competitors. Monthly subscription pricing plans for as low as $9 per month are offered. These affordable and flexible pricing options together with comprehensive courses makes the platform recommended for certification aspirants.
Most people working in the project management environment got there by accident and never planned or set out to become a project professional. "Accidental" project managers skill themselves up as and when required. Davis & Dean offer the building blocks you want in the form of sound knowledge/theory that will provide you with a solid foundation in project management tools and techniques. Known for their workshops with Simulation Training.
Self-paced online learning programs including PM Professional Coach for PMP exam preparation, Build an effective Work Breakdown Structure and Project Estimating Techniques.
Utilizing technology to increase the effectiveness and accessibility of learning with a focus on the human side of project management. For resources like ebooks, audios, video and virtual training from Margaret Meloni, President of Meloni Coaching Solutions, Inc.
Professional Agile & Scrum Master Certification Training is a blend of agile methodologies and scrum practices training, both popular approaches in software development.
PRojects IN Controlled Environments (PRINCE2®) is a process-based approach for Project Management. PRINCE2® Certification has two levels of exam – PRINCE2® Foundation and PRINCE2® Practitioner exam.
E-learning on demand courses for professional development covering every possible aspect of project management.
Why an Agile Certification? Many project professionals are seeing a demand for Agile practices in a variety of industries and organizations, and are eager to learn and apply them. Organizations, too, are seeing value in using Agile practices to deliver projects more quickly, with less wasted labor and costs due to misunderstood or ill-defined requirements.
TenStep offers a full curriculum of PM training classes. Click here for their public class schedule. All other classes below are taught to your company on your site. For pricing and more information on company classes, email them at info@tenstep.com or call them at 877.536.8434
Online training for Green/Sustainability Project Management consisting of weekly, live online meetings with self-directed assessments.
ESI International provides project management core courses created for project managers who seek a foundation in project management methodology and best practices. ESI's project management training offering consists of over 30 project management courses covering all 9 project management body of knowledge (PMBOK) areas tested in the PMP certification exam.
Roeder Consulting is a project management consulting and training firm aimed at helping your organization achieve their goals. They provide online project management training workshops as well as on-demand webinars.
Knowledge Train offers both PRINCE 2 training and project management training courses in London and throughout the UK.
Masters in Project Management is the only non-profit guide dedicated to providing students interested in obtaining their Masters in Project Management, with a complete and updated listing of colleges and universities which offer this degree.
Villanova University offers online master certificate programs in project management to those new in the field and practicing professionals. In conjunction with the University Alliance, it also offers you the opportunity to earn a professional certificate or degree online using tools like a virtual classroom, streaming video lectures, MP3 audio lectures, message boards and student emails.
Training developed by Bill Flint to assist you with continuous improvement to your leadership process by developing and using Servant Leadership Principles. Each module is an interactive process to help your leaders learn how to impact people in a positive way and how to implement these principles to bring out the best in their people. Maximum performance cannot be achieved without great leadership. For more information, go to: http://www.servantleaders.org/training.html
Using the Power of Acknowledgment to engage all your people and achieve superior results. Presented by world renowned IIL Author and Trainer, Judith W. Umlas who leads a highly interactive and engaging program that will have immediate positive and long-lasting results for you and your team. The program is for 6 Hours and will lead to 6 PDUs for PMP's. To view the Course Description click here. To register click here
For your online project management (PMP and CAPM) study needs. PMstudy online courses can be done from anywhere and at any-time and is tailored to suit the requirements of working professionals. It's PMI approved and offers four full-length Simulated Practice Tests with very comprehensive chapter tests as well as Study Guides.
From Open Colleges, Australia's leading online educator, an Australian-first initiative, you can now study this TAFE course with full government TAFE accreditation with the benefit from Open Colleges accessibility, flexibility and student support network. After completing this course you will be awarded with a Diploma in Project Management from North Coast TAFE.
Lean Six Sigma saves organizations time and money through continuous improvement.  Project Management Academy's Lean Six Sigma Green Belt training teaches you the strategies and tools necessary for process improvement, and provides you the Lean Six Sigma Green Belt Certification. Available as Virtual e-learning class for 5 days, or Video-on-demand training.
Agile is the future of project management. Many companies are adopting agile methodologies to increase team performance and improve customer satisfaction. The Agile Certified Practitioner (ACP) is the newest certification offered by PMI and is expected to become the industry standard certification for agile over the next few years. Project Management Academy's training will prepare you for the PMI-ACP exam, and is designed to teach you the principles and practices of agile, including Scrum, XP and Lean. Available as an online training 2-day course.
The Project from Hell. Why learn about Project Success and Failure Factors in a dry, traditional manner when instead, you could participate in rescuing the Project from Hell in a new half day exciting, interactive and fun workshop? Compete with your colleagues in bringing this project back from the brink of complete failure and in to the realms of success – from hell to heaven. Perfect for team events and for those that are involved in projects in any capacity. Click here for more information.
No. 1 portal for all career up-skilling and professional certifications in India. They offer a large choice of delivery methods to suit you – Classroom style, Online Interactive mode, E-learning option, 1:1 teaching, out-bound activities, @premise arrangements. Certification courses include Agile & Scrum, PMP, Prince2, Six Sigma and ITIL.
AFA delivers Training and Consultancy in PRINCE2® Project Management, MSP™ Programme Management, M_o_R® Risk Management, ITIL® Service Management, Change Management and Benefits Management.
PMCentersUSA is a leader in business solutions in the areas of project management, business analysis, and business process improvement. They provide a complete solutions framework to give you the resources needed to not only meet, but to surpass your project goals. PMCentersUSA prides itself in the quality of its educational programs and has worked with Fortune Global 500 companies throughout the United States.
Triniti's Education and Training Academy embraces up-to-date Strategic Centred Leadership and Management; Project, Programme and Portfolio Management, Operations Management and Business Analysis content based on modern concepts, tools, techniques, and international best practice using PMBOK, BABOK and OPSBOK. Triniti Education and Training Academy provide learning solutions that give you the competitive edge and drives performance improvement through excellence in strategic centred leadership and management; portfolio, programme and project management and business analysis
Portable and affordable self-paced courses for Project Managers on the go.
This course is open to anyone who wants a better understanding, tips and techniques for recovering high-tech projects.
The Career Academy Project Management Training Library grants you a full year of online access to an extensive library of project management training courses that can be used to fully prepare you for several different industry certifications. The LearningZone Live Mentoring support provided with every course allows you to chat with a certified instructor at any time – 24/7. The Project Management Training Library also includes access to exam simulations for all applicable PMI training courses.
The VBC Business Management Course is designed to give you detailed information on all aspects of business. It is a 2-day intensive course providing participants with an overview of key business concepts and theory with sufficient clarity so as to align this theory with practical tools offered in the Virtual Business Centre. The VBC is designed for small, medium and micro enterprises ("SMME's") with the objective of enabling and empowering the SMME to have access to cutting-edge technology with a low cost entry.
ISO Standard assessment and certification with IMSM is recognised worldwide for giving your business the competitive edge, client confidence and market place leverage. Since 1994 IMSM have been specialist consultants in the facilitation of ISO Standards, harbouring a wealth of experience and knowledge to bring out the very best in your business. Top of Page