Virtual Project Consulting is about the Power of Projects!
Our motto: "Make Projects Work for You"
which means: getting things done through projects!
In line with our desire to help people and to give back to the community, with your contribution we support the following community development programme.
Please help us to support a worth-while Community Development Programme by making a donation today via Paypal or Credit Card (shown in Dollars).
Bottelary Upliftment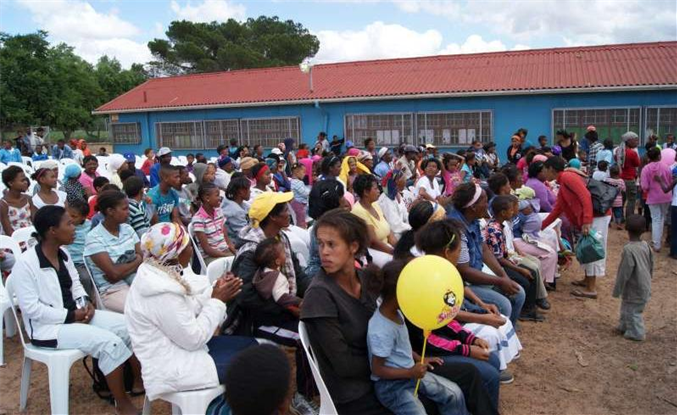 Bottelary Feeding Scheme in Kraaifontein, South Africa, is part of a community development programme which serves more than 200 farm children from 17 different farms in the Kraaifontein area. These farm workers live in harsh conditions, most not being able to provide their families with regular meals, some living without electricity and a lot of them even sleeping without blankets in small shacks. The conditions vary between farms, some are better off than others but almost all of these farm children depend on meals over weekends.
Meals are supplied on Saturdays with fun and educational activities for the children, while doing life skills classes for the adult farm workers and the older children. Some Gr11 & Gr12 pupils from the feeding scheme are  supported with extra classes and supplies they need to finish school. On the last Saturday of each school term, we provide a food hamper to each family that forms part of our feeding scheme to ensure that they have sufficient food supplies during the school holidays, since during these weeks the children do not have the meals that they would normally get in school.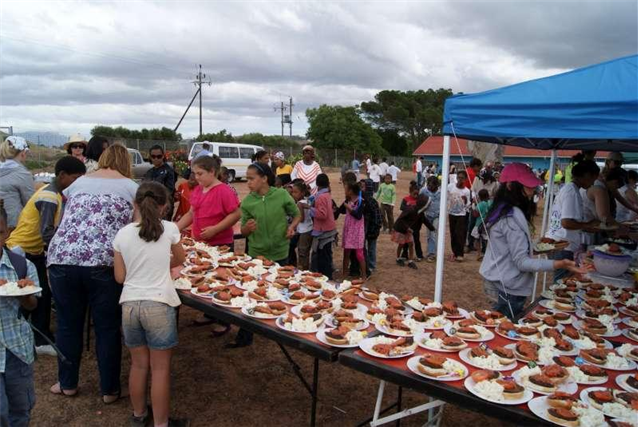 On Sundays meals are supplied after some singing, scripture reading and ball games took place. While their basic needs are met, the people learn about God's love for them.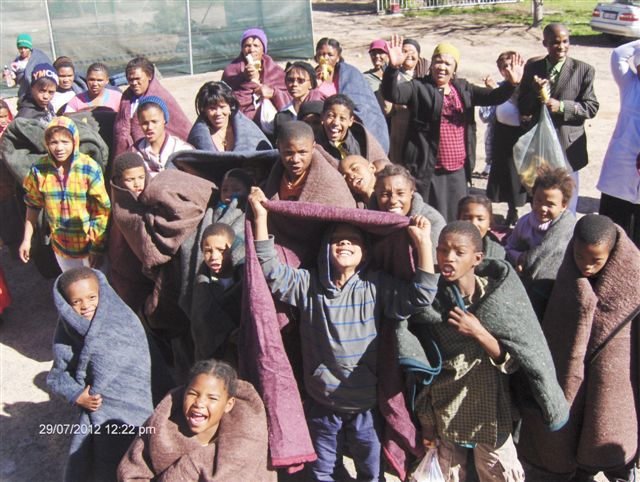 Throughout the year special projects and programmes are run.
"Warm Winter Project" which supplied the community with blankets for the winter.
"Words for Life Programme" a literacy programme that teaches illiterate adults (who have not finished school, or who had no schooling) to read, write and basic life skills.
"Christmas Shoe Project" to collect and distribute shoe boxes filled with toiletries, stationary, biscuits and sweets and small gifts to be distributed during Christmas.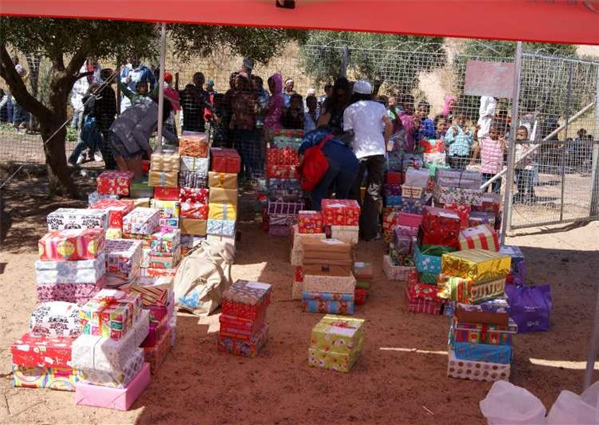 Community Development Challenges
All the community projects and programmes are run by volunteers only and they are completely dependent on donations and contributions to supply food, literacy books, assistance, resources and gifts for events like Easter and Christmas.
This provides an opportunity for individuals and businesses who have abundance to share that with the communities in need.
Community Development Programme Contributions
By making a donation today, you will help to contribute towards:
The Weekly and Holiday Feeding Scheme,
The Literacy Programme that will train Tutors who will educate illiterate people in their own communities,
the Christmas Shoe Project, ensuring not only a gift to every child, but also supplies for their daily needs
other Special Projects running contiuously to uplift those in dire need
Take Action Today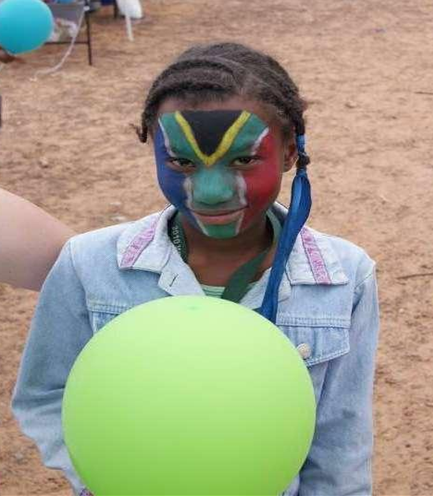 Please use this opportunity to support a worth-while Community Development Programme.
To donate via Paypal or CREDIT CARD please click on the button below.
All donations go from Virtual Project Consulting to the SOS Trust. The SOS Trust was established by Durbanville Business, the business chamber of Durbanville, as an initiative under its social responsibility commitments. SOS Trust is a non-profit organization.
The objective of the Trust is to influence the quality of life and well-being of its beneficiaries in a positive and sustainable manner. Please add as a reference the Bottelary Community Development Programme to ensure that the funds will be channeled to this worthy cause.
You may deduct your donations from Tax.
Thanks very much for the DONATION.
Please send an email with your proof of payment to:
support@virtualprojectconsulting.com