PROJECT MANAGEMENT EVENTS:
Where: Seminars World, Chicago, Illinois,USA
When: 24 – 27 October 2017
This seminar demonstrates how to integrate key people, team, business, technical, and organizational skills. Develop the leadership, learning, means, and motivation to advance both personally and professionally.
Register today for the next generation of skills, mindsets, and processes to transform your performance as a project manager or sponsor.
This Seminar will also be held on the following dates:
Where: Seminars World, Miami, Florida, USA
When: 4 – 7 December 2017

Just like PMI global congress, PMI global conference will highlight present and future challenges faced by project managers. It will help project managers to devise an effective counter strategy that could help them overcome these obstacles. Chicago, IL in the USA will host PMI global conference from October 26 to October 30, 2017.
Visit official website: https://www.pmi.org/global-conference
Where: Cape Town, South Africa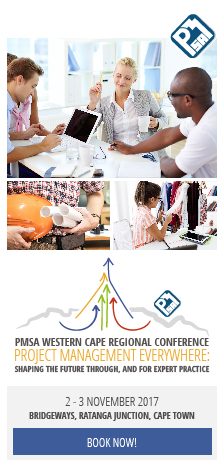 When: 2 & 3 November 2017
With the theme "Project Management Everywhere" PMSA Western Cape opens up a two-day, (2-3 Nov 2017) learning and sharing opportunity to examine the current trends and knowledge application in and around project management, now and into the future across a wide range of industries. Transformation and innovation are at the top of the agenda.
The conference has been scheduled to coincide with International Project Management Day on 2 November.  IPM Day has been celebrated the world over since its inception by thought leader, Frank Saladis in 2003. It marks the contribution made by project managers and project management in our world and lives.
The inspirational line-up of expert speakers commences with Dr. Marais outlining how the establishment and potential discovery of evidence of life on Mars could be one of the most profound possible contributions of science to humanity.  Dr. Marais is currently one of the 100 Mars One Project astronaut candidates in the running to move to the red planet in the next decade.
Click HERE for more information.
Where: An IIL Virtual Conference
When: 2 November 2017
Gain insights from Project Management experts, practitioners, and influencers around the globe, from the comfort of your desk.
Today's organizations need the right people to lead the charge into the digital frontier. Those people are project managers whose passion and sense of purpose galvanizes their teams and stakeholders to bring their very best to every project, every day in pursuit of major change.
IPM Day 2017, our 14th annual event, encourages attendees to rise to the occasion and make things happen, regardless of their industry. Join other professionals around the globe to learn and share knowledge that will help you advance your career and manage game-changing projects that improve our lives.
Click HERE for more information.
Date: 9-10 Nov 2017
Where: Cape Town, South Africa
Three Keynote Speakers are Mike Burrows (@asplake), Jo Perold (@joperold) and Klaus Leopold (@klausleopold). Keep an eye out for the soon to be released program to get more details on their topics.
Register HERE

Do you want to know the secret of success of best PMO's? If yes, then PMO symposium is the right place to be. PMO symposium will kick off on November 6 and ends on November 9, 2017, and the venue for PMO symposium 2017 is Houston, TX, USA. Project managers could know and follow their processes and strategies so that you can also achieve better results.
Visit official website: http://archive.copevents.pmi.org/pmo-symposium-2015/home
Where: Cape Town, South Africa
Coaching, can be defined as "the art of facilitating the performance, development and learning of another person. It is about equipping people with the tools, knowledge and opportunities they need to develop themselves and become more effective." Our EQuipt to Coach course will equip individuals and your business to maximise your potential.
This course is aimed specifically at business managers, team leaders, human resource practitioners, professionals and any individuals who are motivated and intent on growing other's potential, performance and influence.
This will assist delegates to build knowledge and understanding of coaching principles, models and the process.
Download Brochure HERE
Where: Cape Town, South Africa
Imagine how much stronger your relationships would be if you really understood what made people tick — both when things were going well and when there was conflict and opposition. The ability to handle conflict and difficult conversations is an important skill for any person who wants to be happy in the workplace, regardless of your profession.
Download Brochure HERE