Have you ever worked with virtual teams as a project manager? (Click for related articles) From my experience of working with virtual teams who are distributed and working remotely, we have to overcome the communication challenges by using tools like tele-conference facilities, instant messaging and email.
This article is Part 2 of a discussion of research findings about the challenges virtual teams face, communication preferences and recommendations. It is based on an online survey done by Software Advice's Noel Radley (*) with professionals who regularly work on virtual projects, and who had an opinion on the challenges of virtual projects.
Virtual Team Members' Preferred Communication Channels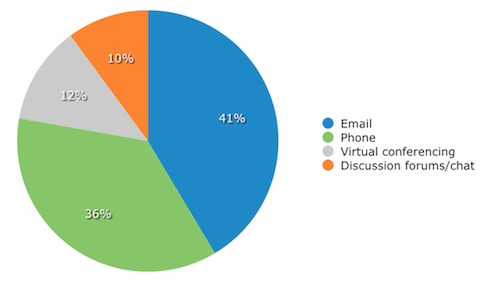 Preferred Communication Tools
The survey confirmed recent reports that email usage has not yet declined to the extent some predicted. To the contrary, 41 percent of virtual team members surveyed selected email as their most preferred communication tool. However, it was also stated as problematic by some (23%) due to long email threads.
After email, phone was selected by 36 percent of those surveyed as their preferred communication channel perhaps due to the benefits of a "real-time" collaboration tool. Surprisingly, tools designed for online collaboration were selected by the fewest respondents. Only 12 percent selected virtual conferencing as a preferred communication channel, and discussion forums and chat rooms were selected by just 10 percent.
Miller recommends instant messaging (or chat) as one of the more effective real-time communication channels for virtual teams. It's a much better way to collaborate on something that's in active progress, or to reach a final decision on an issue. It can also be used to link directly to Web pages or relevant documents that may come up in conversation.
When facing virtual workers who prefer traditional communication channels, managers may need to push adoption in order to help bridge the gap between the tools team members are accustomed to and the tools that help them collaborate most effectively.
Communication Channel Preferences by Age
To add further complexity, our findings revealed a shift in communication preference based on age. Generally speaking, the preference for digital mediums (such as email) decreased with age, while the preference for analog communications (namely, phone) increased with age.
Demographics: Communication Channel Preferences by Age

Email preferences were greatest among the youngest team members surveyed: nearly half of those aged 25-34 had a top preference for email (46 percent). This preference was slightly less for 35- to 44-year-olds (41 percent), and lower still for 45- to 54-year-olds (36 percent).
The greatest preference for phone was held by team members in the 45-54 age category, at 41 percent, while 34 percent of the 35-44 age bracket and 29 percent of the 25-34 age bracket preferred communicating by phone.
These trends change when it comes to video conferencing and discussion forums and chat. The 35-44 group is less likely to prefer virtual conferencing and more likely to prefer chats and discussion forums than both the older and the younger age groups.
These differences may mean that companies with trans-generational teams run into subtle misunderstandings, as diverse communication preferences result in people not answering the phone or not replying to emails. To keep distributed teams on the same page, Miller recommends a "multifaceted" approach.
Recommended Solutions
In addition to using instant messaging, also consider mailing lists, a project wiki, and a project blog. A conference or face-to-face sessions where active project members are invited to get together is also a good solution. This works well at the beginning and end of projects.
Successful virtual projects, therefore, require more than just selecting the right communication tool for your team to use. Managers and project leaders for remote teams should supplement communication channels with engaging online information, collaborative environments and even perhaps in-person events to ensure that all team members stay in the loop.
Conclusions
Effectively managed communication will be more of a solution than a problem for a variety of issues, such as task management and team members with commitments to multiple projects.
Moreover, a multi-pronged approach, including instant messaging, agile project management tools, blogging and wikis, should be used to engage teams and foster effective communication. When confronting teams with diverse preferences, a comprehensive communication strategy involving a variety of tools and techniques can help solidify team connections, as well as improve project visibility.
According to Miller it's important to keep enthusiasm and engagement high, and to make sure that team members' direct managers or sponsors have easy access to meaningful information showing the value of the work and the overall return.
For reference, you can find the full report here:
http://blog.softwareadvice.com/articles/project-management/survey-communication-virtual-projects-0714/
(*) Software Advice is a company that researches and evaluates project management technology.