Have you ever worked with virtual teams as a project manager? (Click for related articles) From my experience of working with virtual teams who are distributed and working remotely, we have to overcome the communication challenges by using tools like tele-conference facilities, instant messaging and email.
This article is discussing research findings about the challenges virtual teams face. It is based on an online survey done by Noel Radley of Software Advice (a company that researches and evaluates project management technology) with professionals who regularly work on virtual projects, and who had an opinion on the challenges of virtual projects. It is divided into two parts. Part 1 is about the main challenges virtual teams are faced with and task management as a top threat to effective project communication.
Top challenges
Thirty-eight percent of team members said communication was difficult on virtual projects, making it the top-cited challenge.
Poor communication regarding task management was perceived as the top threat to project success, selected by 41 percent of team members.
Email was a preferred channel for 41 percent of respondents—though 23 percent noted long email threads were a communication pitfall.
The lack of the right software or technology was given by 33 percent.
A lack of productivity was seen as the biggest threat to project success by 28 percent, since many team members believed those who work remotely are held less accountable.
In addition to communication challenges there are also others based on feedback from Matthew Miller, a project leader at the open source technology company Red Hat who has worked with thousands of contributors on open-source operating system called the Fedora Project.
A deeper challenge of most remote teams is the fact that members are typically "drawn from other teams," and thus have only partial responsibility to their virtual projects. Miller said that typically there's more work that needs to be done than time to do it, and often commitments to virtual teams are the easiest to break. In view of the productivity challenge stated above, the issue may simply be that they have other commitments that take priority. Managers may need to consider analyzing the scope of a team's commitments when assigning tasks or attempting to pinpoint problems.
Virtual Team Members' Top Project-Communication Problems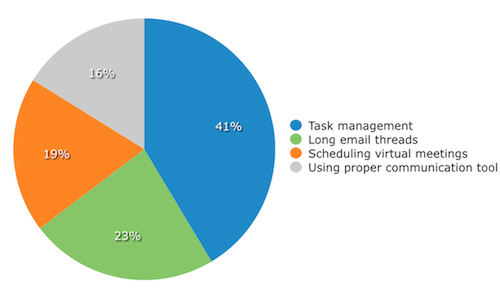 Task Management
When analysing the top communication-related challenges of remote projects it was found that approximately 41 percent of respondents answered that the failure to clearly assign and update tasks, was the top threat to effective project communication.
For 23 percent of respondents, long email threads were the top obstacle to communicating effectively. For others (19 percent), they most experienced trouble scheduling virtual meetings and conference calls. And 16 percent of virtual team members experienced confusion about which communication channel—phone, chat or email—to turn to for which tasks.
Many turn to software solutions for task management. Software Advice found in a recent report that 52 percent of project management software buyers were seeking a task management application.
Although tools are important, Miller emphasized the importance of having established processes in place for your team, like regular group interactions for shared tasks for example.
For reference, you can find the full report here:
http://blog.softwareadvice.com/articles/project-management/survey-communication-virtual-projects-0714/
Please subscribe (top right) not to miss Part 2 and future articles!