By Linky van der Merwe
A Book for SME's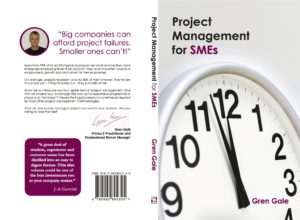 What you'd expect from a book that is written with small businesses in mind, is very practical advice and insight with regards to the application of project management as a discipline in the Small Business sector. The author, Gren Gale, is stating that a badly run project can significantly impact a business's bottom line, in the case of a small business, this can be fatal. He also believes that a professional approach to project management will give a small business a competitive advantage over its rivals.
The aim of the book is described as a guideline for how to control and manage projects effectively. It is meant to support staff of small to medium-sized companies who are charged with coordinating one or multiple projects. It concentrates on projects where the spend isn't massive, but the stakes are high.
The book is divided in 5 chapters and in chapter 2 it covers all aspects of project delivery from the Business Case, to analysis, design, build, test, implement and closure. Chapter 3 goes a bit deeper into project governance in terms of covering governance, risk and issue management, change control, quality and portfolio management.
Chapter 4 covers important soft skills that Gren believes are required for managing projects in small businesses, namely communication skills, people management and crisis management skills. In addition, Gren explains the Agile approach thoroughly and also how it is different from the well-known Agile methodologies.
Project Management experience
The in-depth knowledge and experience of Gren Gale comes through in the clear language and well defined concepts. I believe it is a good source of information for your typical small business managers who are also responsible for project execution. It provides a glossary and a set of required documents at the end, with the option of procuring templates at a discount.
After reading the book, the reader will know how to do projects the right way and which pitfalls to avoid. It can also convince the reader that proper training is required to do project management effectively and that it should not be done using ad hoc ways without the discipline of a consistent methodology.
Conclusion
My initial impression was that the process around project management should be simplified, and that the details in the book can leave a person feeling overwhelmed and perhaps not up to the task of managing projects without proper training.
Regardless, I can recommend the book to managers in small to medium-sized companies who are responsible for running projects. If they follow the principles, process and advice laid out, they will have a much better chance of being successful with project delivery and giving their businesses the competitive edge that well implemented strategies can bring.
To get your copy of the book, please visit Project Management for SME's.