By Linky van der Merwe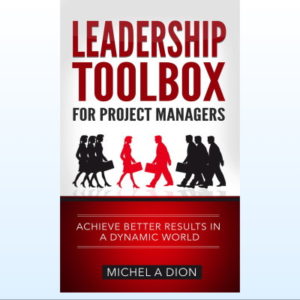 The aim of the book, Leadership Toolbox for Project Managers, written by Michel Dion, is to help equip project managers to manage projects in a dynamic, complex and unpredictable environment. The book is focused on Leadership including self-awareness, vision, strategic thinking, decision making and interaction with others.
Career Advancement
Many project managers were experts in other fields before they learned the skills of Project Management. As project managers are assigned to more complex, strategic projects they need to add leadership skills to their Toolbox of Technical Project Management skills.
Michel emphasizes Continuous Learning as part of the Foundation you need before focusing on Leadership skills. What I liked about his book, is that he starts with looking at the leader as a Person, and looking after your own well-being first, instead of putting it as an after-thought at the end of the book. He gives guidance on modifying your behaviour with the key qualities of a leader and to develop a high level of self-awareness. He puts much focus on values and ethics that influence leadership actions and decisions.
I like his opinion that people is the critical asset to the project's success, including the team, the project sponsor, users and any other stakeholders. And I agree that the value contribution of a project will be measured by all these people.
Leadership skills
Another important Leadership skill is Delegation for which Michel provides the questions to ask when delegating tasks. He explains how to create a learning environment and how to keep adding value while delegating.
Towards the end of the book Michel publishes interesting Leadership survey results about project challenges, strengths and weaknesses in being effective leaders.
Michel laid out strategic thinking and decision making in the project context very well, convincing the reader that learning leadership is a journey and not a specific formula that can be applied the same way on every project.
Recommendation
In my opinion, the only improvement that can be made to the book, is to provide some exercises or perhaps actions steps that the reader can take to help them along on their leadership growth journey.
I will recommend this book to all aspiring project managers as well as existing project managers who seek to develop their leadership capabilities to help them cope in the increasingly dynamic and complex project environments that we are having to manage projects today!
The book is available on Amazon: Leadership Toolbox for Project Managers: Achieve better results in a dynamic world by Michel A. Dion (22-Apr-2015) Paperback
, as well as on Michel Dion's website, Project-Aria.