The 5th of December 2013 was a tragic day for South Africa, the passing of Nelson Mandela at the age of 95. He has changed the course of modern history because of his fight against apartheid, the 27 years spent in prison and serving as our nation's first black president of a democratic elected government.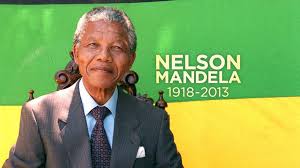 As a leader he will always be remembered for his passion to fight for his vision, his willingness to forgive, freedom for all and reconciliation.
Nelson Mandela was born the son of a tribal chief in Transkei, a Xhosa homeland. Many South Africans of all races call him by his clan name, Madiba, which means "reconciler," as a token of affection and respect.
Imprisonment
A statement made during the sabotage trial in 1964 by Mandela showed his ideal:
"During my lifetime I have dedicated myself to this struggle of the African people. I have fought against white domination, and I have fought against black domination. I have cherished the ideal of a democratic and free society in which all persons live together in harmony and with equal opportunities. It is an ideal which I hope to live for and to achieve. But if needs be, it is an ideal for which I am prepared to die."
He was sentenced to life in prison, which he spent mostly at Robben Island off the coast of Cape Town.
In his autobiography, "Long Walk to Freedom," he would write about his life after prison:
"As I finally walked through those gates … I felt — even at the age of seventy-one — that my life was beginning anew."
President of first democratic elected government
When Mandela became President in 1994, he closed his inauguration speech with:
"Let freedom reign. The sun shall never set on so glorious a human achievement! God bless Africa!"
Mandela celebrated holidays and hosted friends among the huts of rural Qunu in a replica of the prison guard's home where he lived during his final days of confinement. Qunu is also where he was buried on 15 December 2013. About 5,000 people attended the state funeral, and millions more watched it on television.
Father of the Nation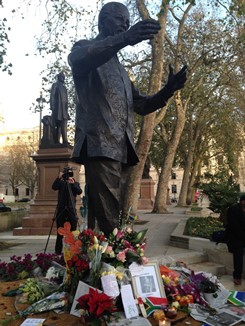 Nelson Mandela is known as the father of the nation. This is evident when looking at new banknotes, released by the central bank in 2012, showing his face. Mandela statues are in front of buildings and squares; places are named after him. South African Airways even emblazoned his silhouetted image on planes.
There are some famous projects associated with the Nelson Mandela Foundation. From the Centre of Memory a $1.25 million project to digitally preserve a record of Mandela's life, went online last year. The project by Google and Mandela's archivists gives researchers access to hundreds of documents, photographs and videos.
The Nelson Mandela Children's Fund (NMCF) is a charitable organization founded by Nelson Mandela. Its mission is to help individuals from birth to age 22, and particularly orphans of the AIDS crisis. The fund currently has offices in Johannesburg, South Africa (Head Office) and in London, United Kingdom, which focuses on fundraising.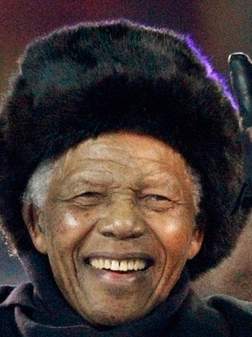 The 'Nelson Mandela Day' project is to inspire individuals to take action to help change the world for the better, and in doing so build a global movement for good. Ultimately it seeks to empower communities everywhere.
Mandela's last public appearance was in 2010. It was during the Soccer World Cup 2010, hosted by South Africa at the Soccer City stadium when he smiled broadly and waved to the crowd during the closing ceremony of the World Cup.
The other unforgettable appearance during a sport event was during the 1995 Rugby World Cup, hosted by South Africa, when he appeared at the final in Johannesburg, wearing a Springbok jersey to congratulate the victorious home team.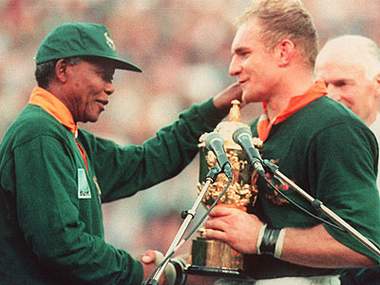 Visionary leader
He will be remembered as a visionary leader who managed to unite South Africa and who set an excellent example to leaders.  As stated by Joyce Banda, the president of Malawi: "Leadership is about loving the people you serve and the people you serve falling in love with you. It is about serving the people with selflessness, with sacrifice and with the need to put the common good ahead of personal interests."
That is what Nelson Mandela stood for and how he has won the hearts and minds of many people not only in South Africa, but all over the world. He was truly inspirational as captured in many of his quotes:
"A good head and a good heart are always a formidable combination".
"When people are determined they can overcome anything".
Thanks Madiba for the legacy that you are leaving behind…