Software review by Irina Viter, multi-project management researcher
Epicflow is an online Project Management tool designed for business experts who want to manage large numbers of projects simultaneously without project delays and cost escalations. The web-based PM software works in tandem with MS Project and Jira, the most commonly used project management tools, as well as Topdesk, Trimergo, Primavera, and CA Clarity.
This online project management tool was developed by two Dutch scientists, Albert Ponsteen and Jan Willem Tromp, to prevent overload, reduce planning headaches, and set priorities in dynamic workplaces. Having spent nearly 30 years in project management environments of different kinds, Ponsteen and Tromp recognized that project management experts are badly in need of software features that can bring order and simplicity to their multi-project environments.
Benefits and Strengths
Epicflow is the next generation of Critical Chain Project Management (CCPM) software, offering capacity buffers for resources in addition to time buffers. It approaches project management from the perspective of resource availability, as this is the most effective way to avert the risk of overload and release bottlenecks as soon as they appear. The key benefit of the Epicflow project management tool is that it creates perfect flow by helping business leaders create effort-based workloads and set priorities.
With Epicflow, project management experts can achieve complete visibility over team performance and notice the "bugs" in their business processes as soon as they show up. The system immediately points to overloaded, "stuck" employees who hold back a project's velocity. You get a real-time overview of all projects in the portfolio, sorted by priority.
Epicflow creates order out of chaotic planning routines. Its smart algorithm eliminates all the waste so people can work according to project priorities and situations of overload are reduced to a minimum. Project managers immediately feel the reduction in planning and management overhead.
This innovative management tool helps you reach high team performance. With adequate resource planning and effort-based workloads, employees are less likely to suffer stress at work, and will be more proactive.
Epicflow increases project awareness by including a mobile application to control resource groups and stay abreast of current projects regardless of location.
Features
Epicflow's features complement MS Project and Jira, upgrading them for multi-project environments and infusing predictive analytics into an ordinary capacity planning routine. The most striking features of this PM software include:
Future load graphs to help you take control of resource planning and predict the impact of additional projects on the existing projects in your pipeline;
A pipeline showing multiple projects, milestones, and bottlenecks;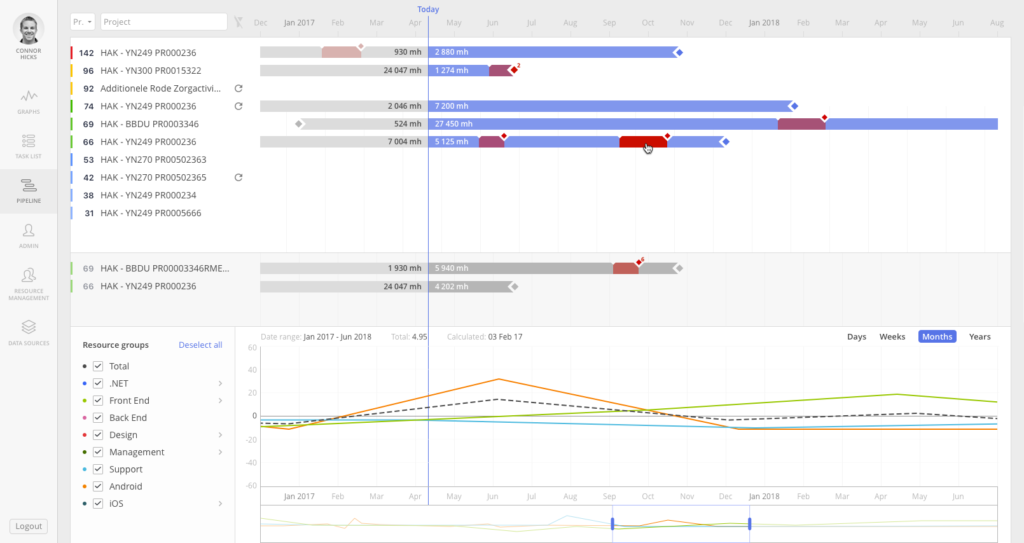 Pipeline with bottlenecks shown in red above
Pipeline indicating the amount of hours that a project lacks below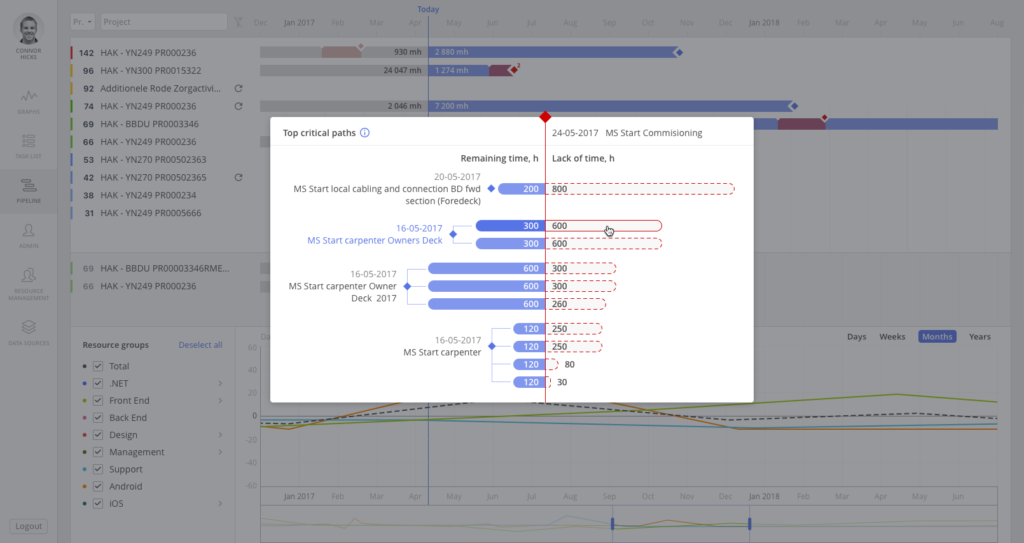 Historical load graph presenting group performance, capacity, load, and output over time;
Burndown chart;
Weeks remaining;
Task list;
Reporting;
User mapping.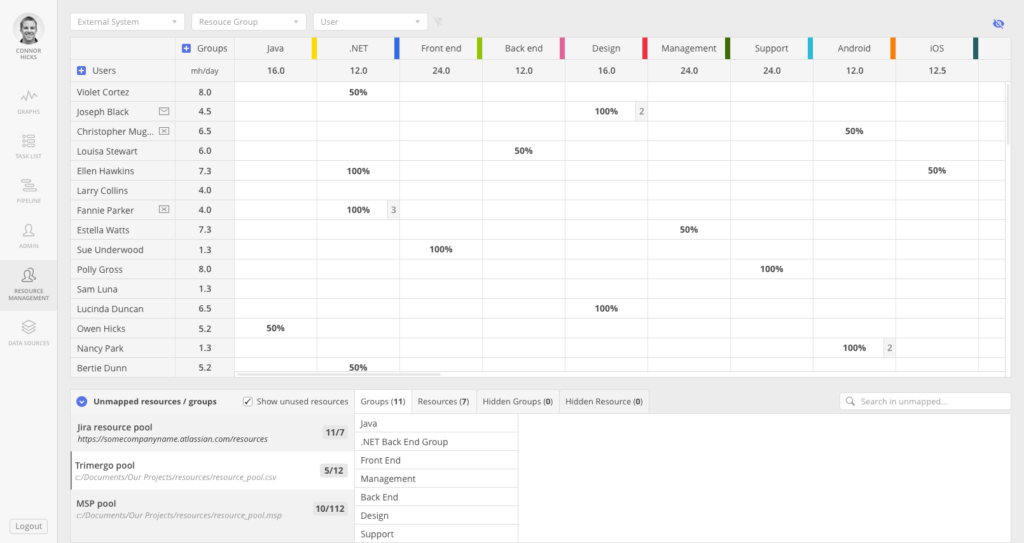 The allocation of resource groups among three PM tools (Jira, Trimergo, MSP) and their associated workloads.
Clients Success Stories
Epicflow has already proven effective for many clients in the form of its previous offline version Flow MPM. This is what clients have to say about the software:
TKF: "With this project management software we increased our output by 200% and reduced lead-time by 50% in 2 years. We are also able to give our customers a realistic commitment." Hans de Boer, R&D Director, TKF
THALES: "This PM tool resource status is giving you visibility in the near future whether you run into bottlenecks. By doing this it gives you enough time to act accordingly." Frank Zalm, Program Manager, Thales Nederland
DSM: "Analyzing FLOW MPM data shows that agility on projects is increasing and efficiency is going up." Rigo Bosman, Application Development, DSM Dyneema
PILZ: "Epicflow has given us a significant improvement in the amount of projects we can deliver nowadays." Jan Tournois, Director, PILZ NL
Visit Epicflow for more information.

Please subscribe to Virtual Project Consulting not to miss future articles, tips and success stories!