Project Management Professionals
PMI has announced changes in the Continuing Certification Requirements (CCR) Program from 1 Dec 2015. This is to answer the demands of the Profession based on the latest research findings in Pulse of the Profession and Project Management Talent Gap.
Employers need project practitioners with leadership and business intelligence skills to support strategic objectives that contribute to the bottom line.
The ideal skill set — the PMI Talent Triangle — is a combination of technical, leadership, and strategic and business management expertise. Aligning with this will ensure that you can develop your career in a more consistent, actionable and meaningful way.
Effective 1 December 2015 the CCR program will be aligned with the employer-identified skills depicted in the PMI Talent Triangle to ensure Project Management Professionals (PMP's) are equipped to remain relevant in a continually changing business environment and to keep certification holders focused on the needs of the profession.
Please have a look at the Infographic below for a complete break-down of how Professional Development Units (PDU's) will be maintained as per the update.
Also visit the Frequently Asked Questions (FAQ) for an explanation of the reasons the CCR program is being updated, what the updates are, when the updates will go into effect, for which activities you can claim PDU's and how you are impacted.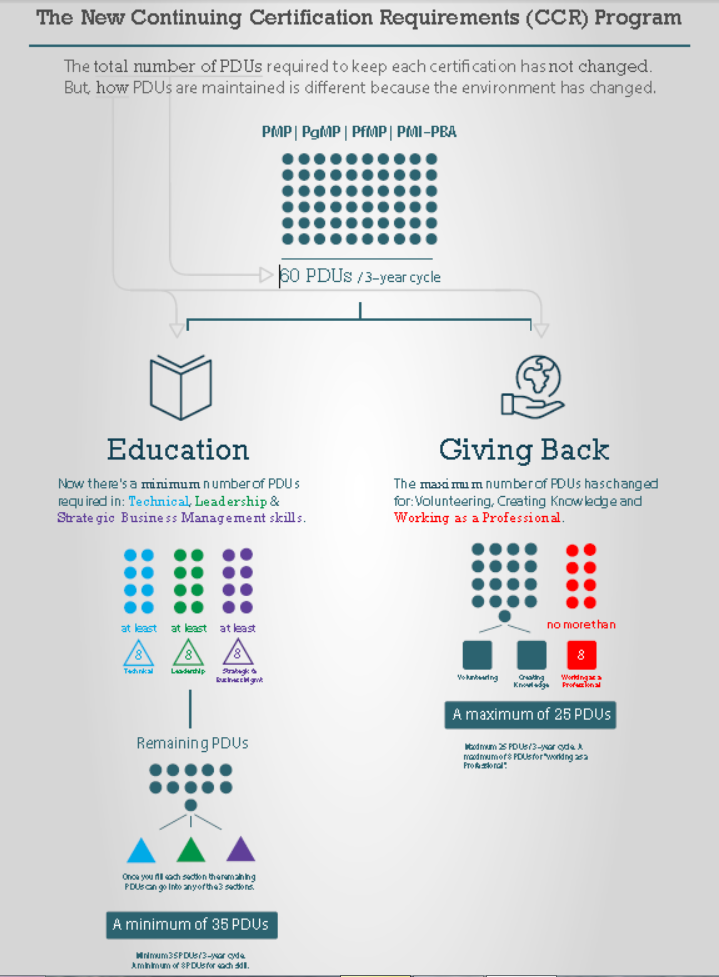 Please subscribe to Virtual Project Consulting to receive notification of future articles!