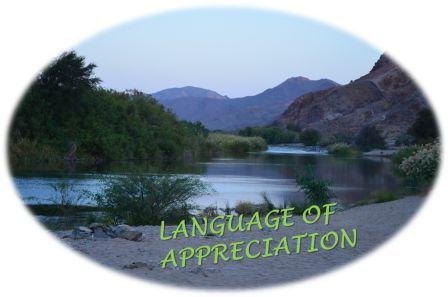 Good project managers always look for ways to improve their leadership skills.  Excellent project managers will apply these skills to become better leaders. One such tool to improve your skills, is the book: "The 5 Languages of Appreciation in the Workplace: Empowering Organizations by Encouraging People" by Gary Chapman and Paul White.
While being familiar with the "5 Love Languages" I was curious to know how the love language concept is applied to the workplace. Then more specifically I wanted to understand how words of appreciation can help a project manager become better at leading his/her project teams.
The book is aimed at helping managers effectively communicate appreciation and encouragement to their employees, resulting in higher levels of job satisfaction, healthier relationships between managers and employees, and decreased cases of burnout.
It helps to identify an individuals' preference in the languages of appreciation. Understanding an individual's primary and secondary languages of appreciation can assist managers in communicating effectively to their team members. It also relates to the power of acknowledgement – see "The Power of Grateful Leadership" for more.
Languages of Appreciation
According to the "5 Languages of Appreciation" there are five ways to show your appreciation in the work-place:
Words of affirmation
Acts of service
Tangible gifts
Quality time
Touch (language of touch is less important in the workplace than in personal relationships)
Benefits
The languages of appreciation in the workplace have shown to significantly improve relationships among co-workers (team members) and to make workplace environments more positive for all who work there.
Motivating through action
For each language of appreciation, there are specific actions that could be taken. Here are some good examples: (focusing on the first 4 languages only) 1
Words of Affirmation
Write me an email and acknowledge when I have done a good job.
Acknowledge my effort of a project, in the presence of my teammates.
Tell me "thank you" or give me a specific compliment.
Give our team a group compliment when we have done well.
Send me a text message after I have completed a task well.
Let me know when others have commented positively on my work.
Quality Time
Go to lunch together and

not

talk about business issues.
Invite me to go to lunch with project team members.
Stop by, sit down or have a weekly "check in" meeting to see how things are going.
Debrief a recently completed project with me.
Acts of Service
Help me get my computer to work correctly/more efficiently.
Assign someone to answer the phones so that I can complete reports tasks that require undivided attention.
When working on a time-sensitive project, protect my time from additional requests.
Tangible Gifts
Movie tickets.
Gift certificate for a bookstore or outdoor / sporting store.
Allow me to come in early and leave early that day.
Provide a special luncheon to celebrate an accomplishment by our team.
Register me for a conference or event.
How to apply on projects
In the book: The 5 Languages of Appreciation in the Workplace, you will find a questionnaire to discover your language of appreciation and the specific actions that uniquely encourage you.
In addition to the book, you will find on the website:  www.appreciationatwork.com more resources to use. One such resource is the "Motivating by Appreciation (MBA) Inventory" tool to assess your team members in order to understand how to express appreciation that resonates with each individual. Each book purchased also comes with a code inside for one free MBA inventory.
If you take the time to discover your language of appreciation, as well as that of your team members you can create a group profile showing the team members' primary and secondary language. See example below: 2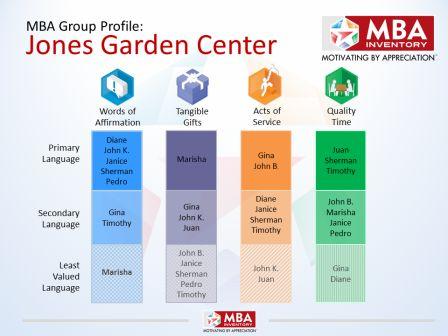 Then you create Action Items for the Group serving as a reminder of what to do to make your team members feel appreciated for their hard work and efforts.
There are some signs that will tell you when team members need a message of appreciation or encouragement: 3
Discouragement
Irritability and resistance
Increased absenteeism
Apathy
Social withdrawal.
Problems with Language of Appreciation and how to overcome them
There are some problems with appreciation like when you genuinely appreciate some-one, but they don't believe you are sincere. To get past a perceived inauthenticity, it is important to only communicate it when it's true and to state your desire to be viewed as genuine. An example: "In spite of not saying this enough in the past, I wanted to let you know that I appreciate ….".
You also need to be communicating appreciation consistently over time. When you team members feel valued and appreciated, good things will happen. There will be loyalty and commitment to the project, to the stakeholders, and to a successful outcome.
Sources:
http://www.appreciationatwork.com/resources – Action Template
http://www.appreciationatwork.com/resources/articles/ "Picking up cues"