Some of the biggest projects that were launched in preparation for the 2010 FIFA World Cup were the projects in Cape Town.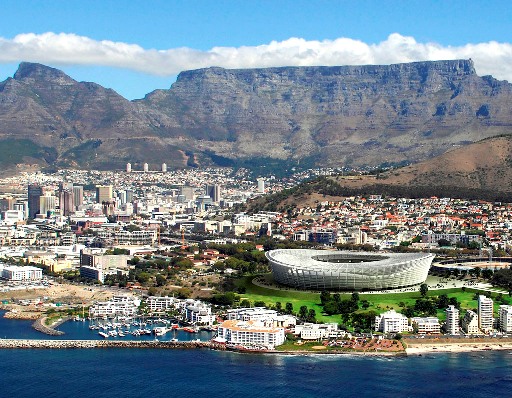 Cape Town, the city with a vista of mountains, the ocean and scenic beauty, is committed and excited to be one of the host cities for the 2010 FIFA World Cup. As Cape Town prepares for the 2010 Soccer World Cup, large infrastructure projects within the city included:
demolition and reconstruction of the Green Point Stadium,
expenditures on roads and other transport infrastructure such as rail and airport services.
With the official FIFA slogan in mind: "Using Football to Touch the World", a business plan was drawn up in preparation for a number of projects. The business plan is based on three strategic pillars:
compliance with FIFA requirements for hosting the games;
optimizing the developmental impact and leaving a legacy, and
maximizing the promotional and positioning opportunities: leverage what the Western Cape has to offer, visually, and in terms of history, arts, culture, music, cuisine, entertainment and activities.
Project: The Green Point Soccer Stadium
Construction of the breathtaking new Cape Town Stadium, located on the Green Point Common between the twin icons of Table Mountain and Robben Island, began in March 2007.
In just 33 months, joint contractors Murray and Roberts and WBHO completed the massive project at a cost of R4.4-billion or approximately US$600-million. The project architects were an association between GMP Architects of Germany and two local firms, Louis Karol and Associates and Point Architects.
Some quick facts about this project:
96,000 cubic metres of concrete were used
The roof has a total weight of 4,700 tons
Some 9,000 glass panels were used to cover 37,000 square metres of roof
500 toilets and 360 urinals
115 entry turnstiles
16 lifts
More than 2,500 workers were employed on site during construction, and almost 1,200 artisans received training from the contractors
All systems of the 68 000-seater have been tested and the brand new stadium is now ready to welcome the world to "the greatest show on earth".
Project: Western Cape's Public Transport System
As part of preparations for 2010, a plan has been implemented for a fully integrated transport solution for Cape Town and the Provincial Government of the Western Cape. The multimillion dollar restructuring will integrate rail, bus and minibus taxi transport. The project involves an intelligent transport system (ITS) encompassing route monitoring, fleet management and passenger information and an integrated fare management system, including an integrated ticketing system.
Cape Town International Airport
Approximately $186 million was invested in the facelift of Cape Town International Airport by 2009. Upgrades included a new terminal, an elevated road, a plaza for public transport, air bridges and a multi-story parking structure.
Project: Tourism
The 2010 FIFA World Cup presented a number of good tourism development opportunities in Cape Town and the surrounding area. These included: A $2.7 million destination tourism marketing strategy, which aims to market Cape Town and the Western Cape as the preferred destination for 2010 Soccer World Cup spectators and participating teams. A $1.4 million Film Strategic Plan involving media workshops and the development of visual archives and information, and development of Cape Town & Western Cape Film Festival. There will also be Customer Service Training for front-office staff, with the development of a Call Centre for information management and customer relations.
If you are also excited by the soccer World Cup 2010, please visit Total Soccer Fitness for a step-by-step guide to creating your own custom made, soccer conditioning program.


The next article is about the Green Project for the City of Cape Town. Not to miss any future posts about the 2010 FIFA World Cup projects, please subscribe and read with Google Reader.
About the author: Linky van der Merwe is a Microsoft Project Management Consultant and an IT Project Manager with more than 11 years Project Management experience.
She consults with business owners and service professionals about project management and project processes, best practices and successful delivery through projects.  She can be reached at linky@virtualprojectconsulting.com