6 Reasons To Be a Project Management Consultant
to Business Owners and Service Professionals

Following on from my previous blog post on 'About Project Management Passion', I wanted to explain Virtual Project Consulting's 6 reasons for being Project Management Consultants to Business Owners and Service Professionals.
1. Core Desire To Help
As a Project Management Professional it is my core desire to help, equip and empower people to reach their full potential. I realized one way of doing this is to combine my calling to help more people with the sharing of my knowledge and experience in Project Management as a business tool. If life is about learning, earning and returning, you could say that my Project Management Consulting business is about returning my project management knowledge, skills and experience of the past 11 years to help other people grow.
In choosing a name for my Project Management Consulting Business, I decided on a name that will also work for doing business online with clients over the internet.  Hence the choice of VIRTUAL PROJECT CONSULTING.
What does VIRTUAL mean to me?  Virtual has several meanings as portrayed in the following graphic: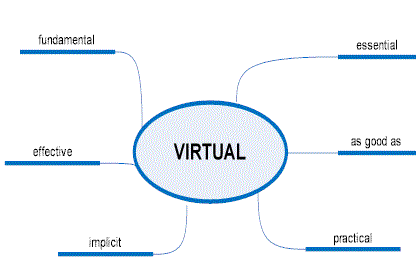 2. Our Vision
As part of our vision to be the Service Provider of choice for Project Management Consulting and related Products on how to manage successful projects in your business, the VIRTUAL component means that you can expect practical, effective and fundamental advice from us. We are the Virtual Project Manager in your business, without actually being there.
3. Support Our Mission
I believe in consistently delivering Professional Project Management Consulting Services:
That adds value
That meets the needs of clients
That provides inspirational leadership
That empowers people by equipping them with skills and knowledge required to be successful in business.
That is based on ethical business principles
4. Create A Community
Through interaction with different business owners and service professionals I want to use Virtual Project Consulting as the company vehicle to build a community of people who are passionate about what they do, to connect, to learn, to grow and to give back. Share success stories and learn from one another's horror stories of what can go wrong in business. Aspiring project managers can read more Project Management related articles here.
5. Fill A Need
Many business owners and service professionals are entrepreneurs with no or very little project management training or experience.  Any-one starting out on their own or being a small to medium business, cannot afford to employ a project manager full time for the occasional projects required to be finished from time to time. This is where Virtual Project Consulting will fulfill the need of providing a basic project management methodology and process, guidelines and tools, as well as ready-to-use project management templates that can be customized according to your own needs.  These can be downloaded instantly and used by any-one with little or no project management experience. Solid As A Rock Project Toolkit will make you successful in managing your own business projects.
For service professionals who require assistance with their Online Marketing Strategy, I can help you plan and implement your Internet marketing plan helping you to attract more customers and increase sales for your business.
6. Community Involvement
One of my other passions that I care for deeply is educating people, including adults and school children. Through proper education they can too aspire to a better life. In my country we have a majority of people who are half-educated or completely illiterate – even in these modern times.
I aspire to donate a percentage of all earnings from Virtual Project Consulting to organizations that are positioned to educate less privileged children and adults. Through this my clients will also make a contribution to a good cause that can change the lives of many individuals in this country.
Please comment if you can associate with being a principled driven business who is passionate about what you do! Share your story with us.