For the past 3 years I was active on various social media platforms, especially since I've been blogging about Project Management. Initially my intention with social media was to become more visible and to attract free traffic to my website. What I realise now, is that social media has already become integrated with Project Management and is more widely adopted by project managers than we think. The purpose of this article is to have a look at 10 social media tools that are available to project managers to use during project delivery.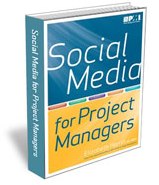 According to Elizabeth Harrin, author of "Social Media for Project Managers" Project Management Institute, there are a number of different social media tools available to project managers.  We will look at ten tools with a short description of what they mean.
Blogs: In the project setting, it is the equivalent to a project notebook or a shared project log. Blogs are made up of posts, which are short articles that appear in reverse chronological order on the blog. Blogs have an archive facility which will display historical posts by day, week, or month.
Collaboration tools: Software solutions that are designed to help manage teams and get the job done. They are used for storing of all project information, contacts, documents, and discussion in one place. Consequently, the software becomes the main place for project team members to go for updates on tasks and to work with other people.
Instant messaging: A way of sending short text messages to colleagues through the computer. It is similar to email, but faster and with shorter messages, because you know the person is at the other end available to reply. You can see a list of colleagues and their status as to whether they are available to message or not, which saves you contacting someone who is unavailable. This is called "presence" and can extend to other types of technologies as well.
Microblogs: This is blogging on a very small scale. It allows you to send short messages to the internet for public consumption. The most popular microblogging tool today  is Twitter (http://twitter.com) which limits the update to 140 characters, the length of a text message on a mobile device, and also permits your "tweets" to be protected if you would prefer that they are only seen by your friends. As with a blog, the tweets appear on your homepage in a long chronological stream, with the most recent comments at the top.
Webinars: A seminar hosted on the web. It is also used to describe other types of meetings where the participants go to a website to see the presentation material.  Participants use their web browser to access a website for that meeting.
Podcasts:  Audio files that are listened to either through your computer's speakers or through a download to an MP3 player.  A podcast is an on-demand audio file delivered regularly through a mechanism that allows people to subscribe to the latest episodes, like RSS.
Vodcasts: A video podcast; video on demand delivered regularly through a mechanism that allows people to subscribe to the latest episodes, like RSS. Think mini-TV series. Vodcasts are typically not that long and are designed to be watched on small screens.
RSS:
It stands for Really Simple Syndication. It's called syndication because, like a news syndicate, information is sent to multiple channels at a time.  This allows you to subscribe to updates. Every time a new news article is posted, the RSS feed is updated and, as a subscriber, you will get the update. There are software tools (called RSS readers like Google Reader, or aggregators) which organize all your feeds in one place.
9. Social networks:  Online groups that are designed to bring people with common interests together. You can connect with friends that you know both in the real world and those friends that you have never met in person. Individuals create a profile which includes details about themselves and normally a photo. From your profile you can connect to others. LinkedIn and Facebook are two of the most popular social networks today.

10. Wikis: 'Wiki' is Hawaiian for "quick." It's also an acronym for "What I Know Is.  A wiki is a collection of web pages that are written by a group of people, normally on a particular topic—your project, in this case. The wiki acts as a knowledge repository. Wiki software makes it easy to add pages and link them to other pages, which creates a hyperlinked data set. In essence, a Wiki can form the collective knowledge from your project team, organized in web page format.
Please let me know in the comments section which of the social media tools you're using or perhaps other social media tools?
Do you think that these tools help you with project delivery?