For all project management practitioners and existing Project Management Professionals (PMP), there are numerous links to TRAINING, SOFTWARE and PRODUCTS that will enhance your knowledge and skills and help you to maintain your PMP status by receiving PDU's. Aspiring project managers will find Career Considerations and more on the Resources Page.
Visit the Events Page for project management and related events and workshops in South Africa and globally.
Find out about Project Management SOCIAL, the premium product to strategically and effectively bring social media onto your projects in order to unlock value and gain benefits from regular use.
Project Management Resources
Interesting Project Management Articles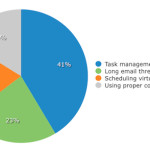 Communication Challenges for Virtual Project Teams – a discussion of research findings about the challenges virtual teams face based on an online survey.
One of the characteristics of a project is that it is a temporary endeavor. In other words there is a start and end-date. This seems simple enough until you start to try to define exactly what these dates mean. Is …
The Risk Management Plan describes how you will define and manage risk on the project. This document does not actually describe the risks and the responses. This document defines the process and techniques you will use to define the risks …
Mistake #3: Not Keeping Schedule Up-to-Date Many project managers create an initial schedule but then don't do a good job of updating the schedule during the project. There are trouble signs that the schedule is not being updated. The project …
If you are a project manager dealing with what you perceive to be an unrealistic budget, the first thing you will want to do is discuss this with your sponsor to see if there are any factors that are driving …
Mistake #2: Poor scope management practices Managing scope is one of the most critical aspects of managing a project. However, if you have not done a good job of defining scope, managing scope will be almost impossible. The purpose of …
Take a look at the negative effects of insufficient change management as well as the barriers to a successful implementation of change.Linky Van Der Merwe's insight:What are the barriers to effective Change Management on projects?See it on Scoop.it, via Project Management best practices
This article will look at how to measure your return on investment (ROI) and whether the cost spent on Change Management yields a favourable return.Linky Van Der Merwe's insight:Can ROI be measured for Change Management on projects?See it on Scoop.it, via Project Management best practices
This is the first of a series of 3 articles about the Change Management process. It will cover the benefits of change management, ideas for how to measureLinky Van Der Merwe's insight:Discover the benefits you can expect from doing proper Change Management on your projects.See it on Scoop.it, via Project Management best practices
Part of the Success Stories Shared initiative whereby experienced project management practitioners share project stories and lessons learnt.Linky Van Der Merwe's insight:Success despite cultural challenges by adhering to PM processes and standards. Read interesting success story shared.Please contact me to share one of your own success stories.See it on Scoop.it, via Project Management best practices
Tips to Manage a Project When It's Just You Business 2 Community Often times, especially if you're a service provider or small business owner, the project manager and the person working on the project are one and the same.Linky Van Der Merwe's insight:Overview of how to approach project management in your small business. #smallbusiness #pmSee it on Scoop.it, via Project Management best practices